Editorial
THE GRINNING
MANGA GENERAL
Isn't Takashi Murakami the artist who printed colourful flowers on Louis Vuitton bags? Precisely. No one juggles art, cult and commerce as masterly as the idiosyncratic Japanese artist.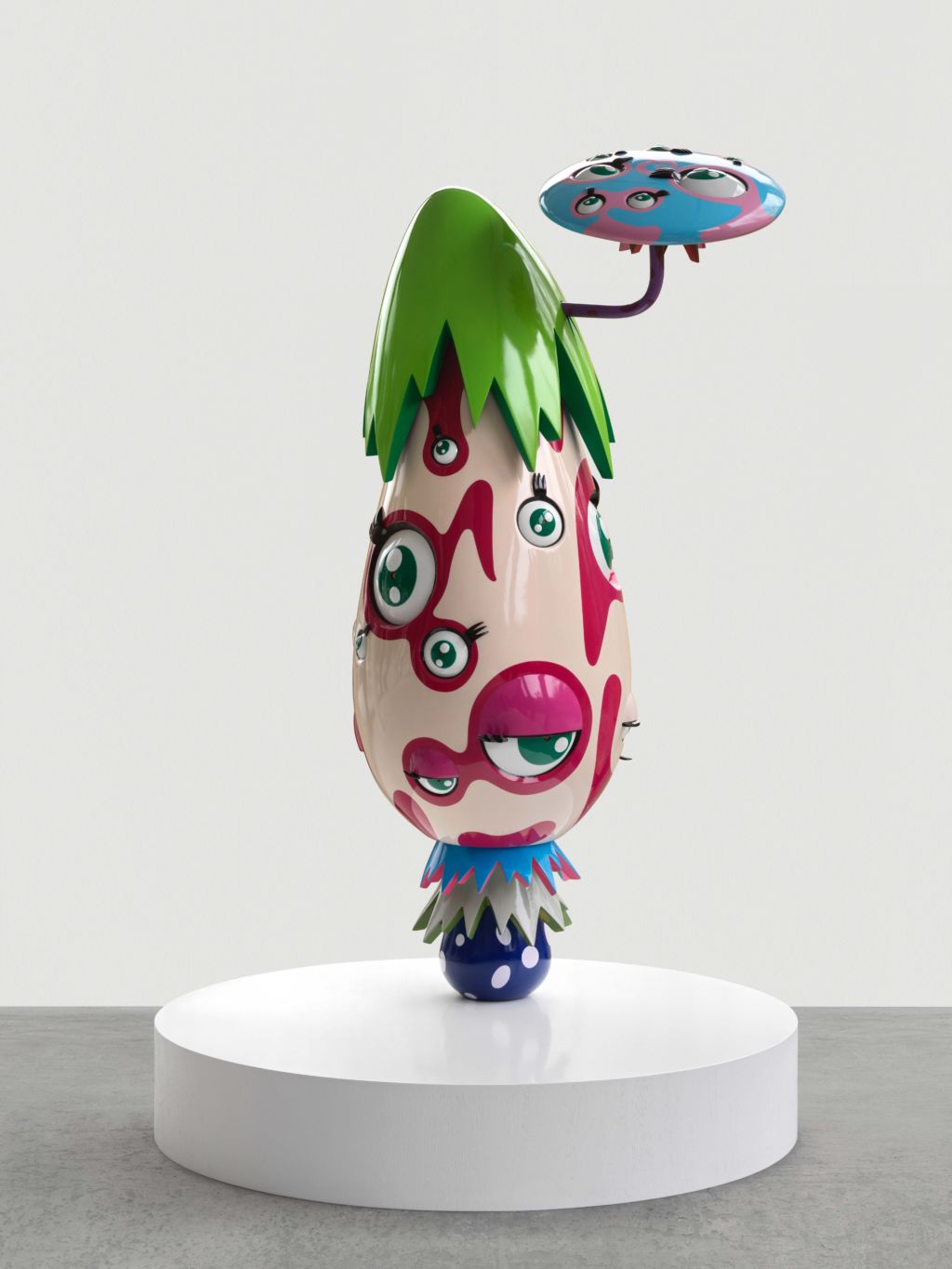 First, the bad news: Takashi Murakami is broke. Nearly, anyway. He said it himself in a video that he posted on Instagram in the middle of July. COVID-19 is to blame, he says, smiling apologetically, for his latest film project ("Jellyfish Eyes, Part 2") being put on hold. Moreover, artists are just "very foolish people".
Can it be true? This Japanese man, with his trademark features of John Lennon glasses, goatee and sometimes a plastic octopus by way of headgear, is a full-on celebrity with millions in the bank thanks to his art – bought by ardent fans including Leonardo DiCaprio, Justin Bieber, Pharrell Williams and Drake – but also thanks to his almost Warholesque feel for combining culture and consumption to create a cult following, and capital. Who can forget Murakami's collaboration with Louis Vuitton, when he sprinkled the ubiquitous monogrammed bags with pink blossoms, plump cherries and wide round eyes? The world of high culture was horrified. Collectors, trendsetters, bohemians and opinion formers, however, loved it, and fans rushed out to buy their own.
It was no coincidence that this balancing act between luxury and low culture was not merely a success for Murakami, but propelled him into pop culture stardom. Trained at the renowned Tokyo Geijutsu Daigaku (University of the Arts) – including a doctorate, too – Murakami targeted his hyper-pop art projectiles from early on at the top galleries, creative centres and bosses of large companies. Control the leaders and the rest will follow.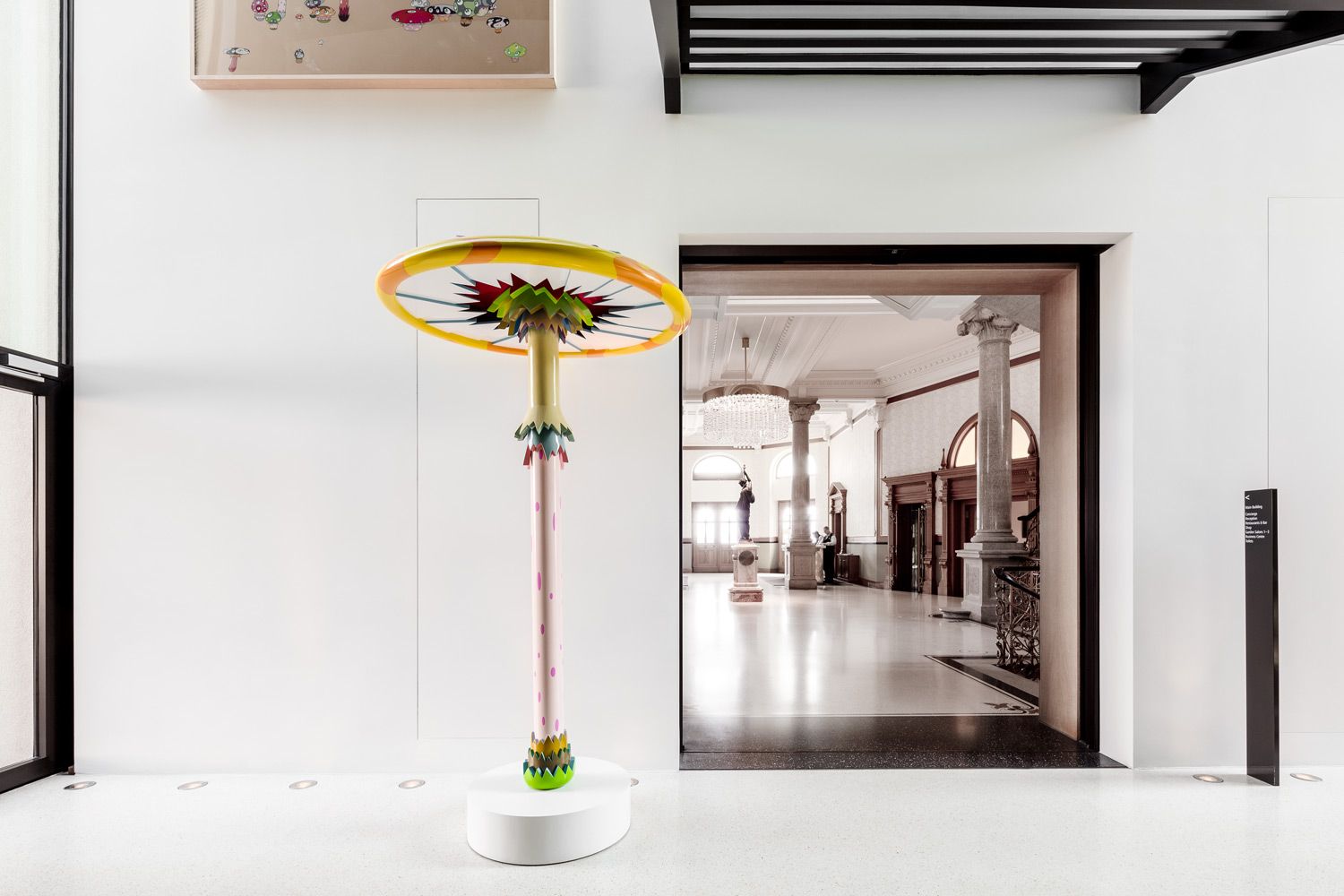 It is certainly very smart and calculated, but there is real ability and knowledge there, too. The matt gold base of his large-format paintings: a tradition passed down through generations of Japanese artists. The abundant mushrooms: a horrific, colourful evocation of Hiroshima and Nagasaki. The wide round eyes everywhere: reflecting the "We're watching you, you're watching us" attitude of someone who grew up during the Cold War, plus the traumatised, deeply scarred post-war Japan that had to watch as they lagged behind America's rapidly burgeoning prosperity. And let's be honest, would the French have permitted an exhibition by a crazy manga genius in the hallowed halls of Versailles (2010) if he were not fully versed in Delacroix, Courbet and Monet?
All of this – fermented, distilled and prettified until it is unrecognisable – comes together in what Murakami calls "superflat". A mischievous prankster, with a sense of irony. (Or should that be sarcasm?) What else would you call a saccharine anime universe in which everything is just a veneer? And the next question – if you have confronted high culture with an army of hysterically smiling daisies, what else could you do but set up a command centre? It is called Kaikai Kiki Co., Takashi Murakami's childlike, exuberant HQ, where he reigns as a wily, grinning general, a parallel world where dozens of artists, makers of animation films, sound engineers, designers and PR gurus produce creations in which the cheerful is constantly on the verge of tipping over into the gruesome.
Might the whole HQ tip over? What if it does? A small wave like that will not wash someone like Murakami away. He will surf it! Or he will plunge into it, only to emerge even more peculiar, more mischievous, more provocative. There is no doubt he is capable of holding his breath for as long as he needs to; he recently designed not only clothing for Billie Eilish, but also what is probably her best video. He did the same for Kanye West in 2007 – when Billie was only six.