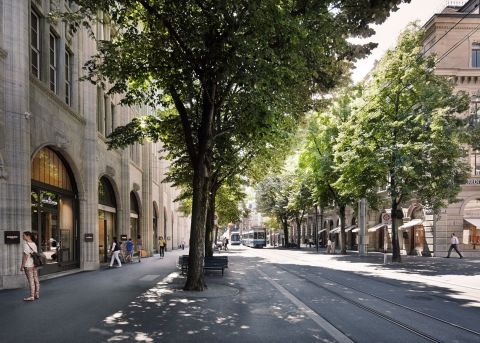 You can find everything that your heart desires in Bahnhofstrasse: fashion, art and Zurich specialties attract local residents as well as visitors.
The world-renowned shopping boulevard was created after construction of Zurich's Main Railway Station. At the spot where city moats were 150 years ago, today it connects Lake Zurich with the Main Railway Station on a length of 1.4 kilometers (0.87 miles).
You find numerous boutiques, department stores and timepiece stores here, as well as at Paradeplatz – the Swiss banking center. Bahnhofstrasse is just as popular with locals and visitors, and it is always worth a visit. You can stroll relaxed along the lake in the summer as well as enjoy mulled wine or hot chocolate at every corner in the winter.
Rennweg and Augustinergasse lead off from Bahnhofstrasse into the picturesque old town.