A Fabergé egg made of flowers
The huge egg made of brightly coloured flowers that sits enthroned in the lobby of the Dolder Grand every Easter is around 2.5 metres tall and weighs approximately 1.5 tonnes. An in-house team of florists spends two full days decorating the egg with around 12,000 carnations by hand.
The artwork comprising countless carnations stands for almost a week over Easter in the lobby of the Dolder Grand, where it is sprayed with water and admired by guests on a daily basis. This is possibly the only time when even the Hotel's works by Warhol, Dalí and Miró, etc., are overshadowed.
"Lots of people who've never seen our egg before are completely overwhelmed. They can hardly believe it's made of real flowers," says Cristina Mathis, team leader in the floristry department.
The amazement at this magnificent artwork is understandable – some 12,000 carnations of various colours are used over two full days to create a display that is 3.5 metres tall and weighs 1.5.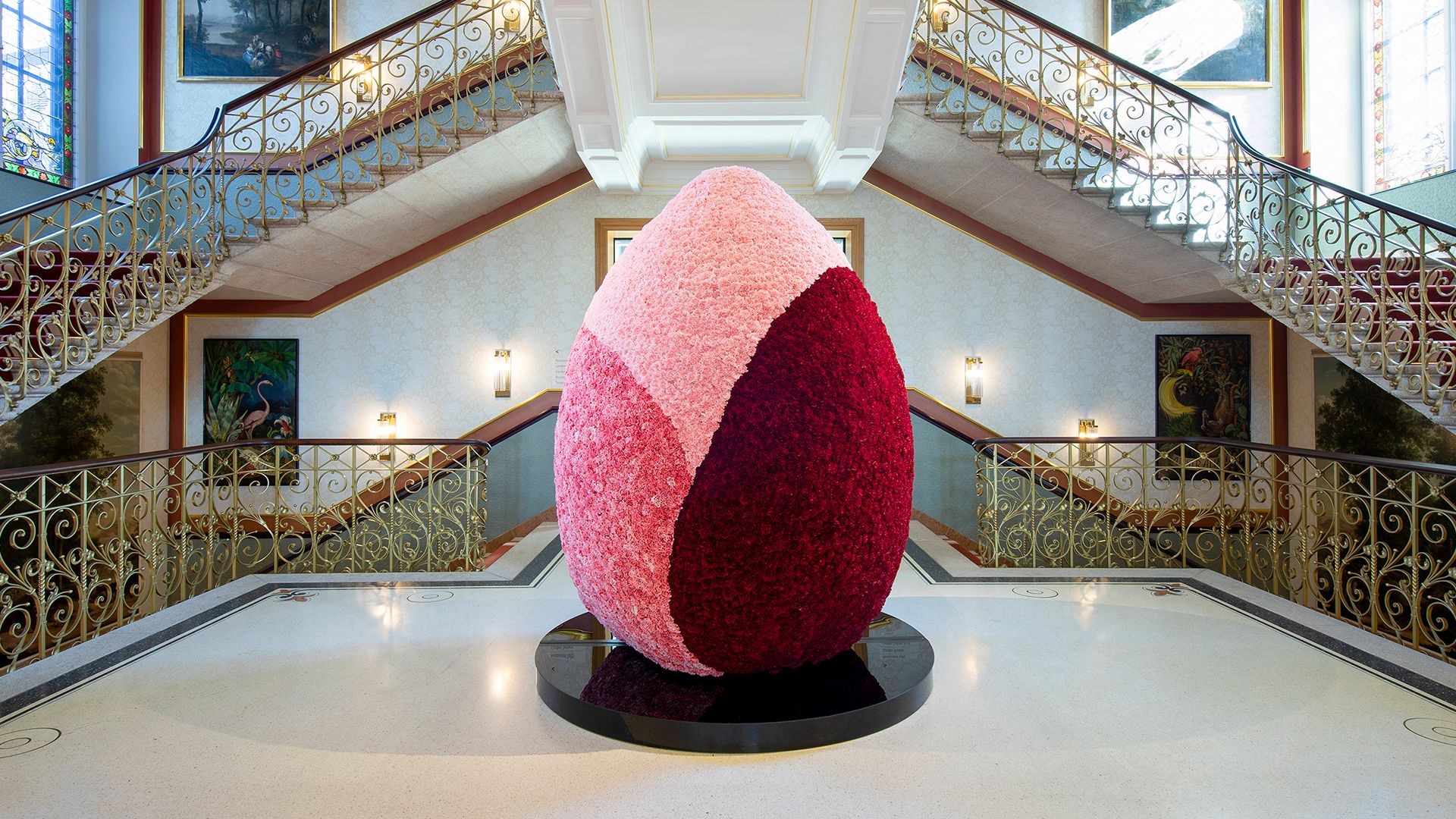 AT LEAST THREE COLOURS AND NEW PATTERNS
Zigzags, dots or stripes: the decoration and patterns are different every year. This is even one of the requirements. In addition to this, the egg must comprise at least three different colours, as well as new patterns that can be produced with the desired effect – geometric or organic, such as zigzags, straight lines or waves. "This isn't always so easy given the egg shape we have to create," admits Cristina Mathis.
"THE ENTHUSIASM MAKES UP FOR ALL THE HARD WORK"
The flower egg has been displayed at the Dolder Grand every Easter since the Hotel's reopening in 2008. Due to the quantity of flowers and the various colours required, the carnations are ordered from the Netherlands, the market leader in flower production. Switzerland does not have the necessary capacity for such quantities. And what are Cristina Mathis and her team most proud of once the flowering egg-shaped display is in place? "The reactions and compliments from staff and of course the hotel guests! They make up for all the hard work."