Editorial
In the interview with Yusuke Sasaki
Yusuke, what can guests expect when they come visit you at Mikuriya?
An evening-long event centring around a certain word: "omakase".  This literally means "trust", and is figuratively translated as "I'll leave it up to you". In essence, this means that all guests have to do is tell us of any food allergies or intolerances in advance, and then leave it to me to decide what to serve them for each of the 18 courses.  This form of dining is highly venerated in Japanese culture. Omakase is intimate, educational and piques people's curiosity.
Do you cook in front of the guests?
I prepare the dishes during the day, and then finish them off at the counter, right where the guests can see. In Japanese cuisine, we call this "kappo", which means "in front of the chef at the bar". At the same time, I explain the ingredients and ideas behind each dish. At Mikuriya, the dialogue between guests and chef plays an important role.
Instead of 50 or 100 guests, there are now just eight diners at a time – apart from yourself, there is only one additional waiter present. What distinguishes this type of cooking from working in a big kitchen?
At my previous place of employment, we had six chefs cooking for up to 150 guests. There, it was impossible for me to prepare, taste and check the visual appeal of each plate myself. At Mikuriya, every single ingredient passes through my hands, and I prepare each plate myself. This makes a big difference to me as a chef.
Apropos visual appeal: the dishes you serve look like works of art. 
In Japanese cuisine, we want to appeal to each of the five senses. This includes the visual appeal of the dishes, as this also influences how they taste. You can prepare the very best ingredients as well as you like, but if the dish doesn't look good, it won't taste good either.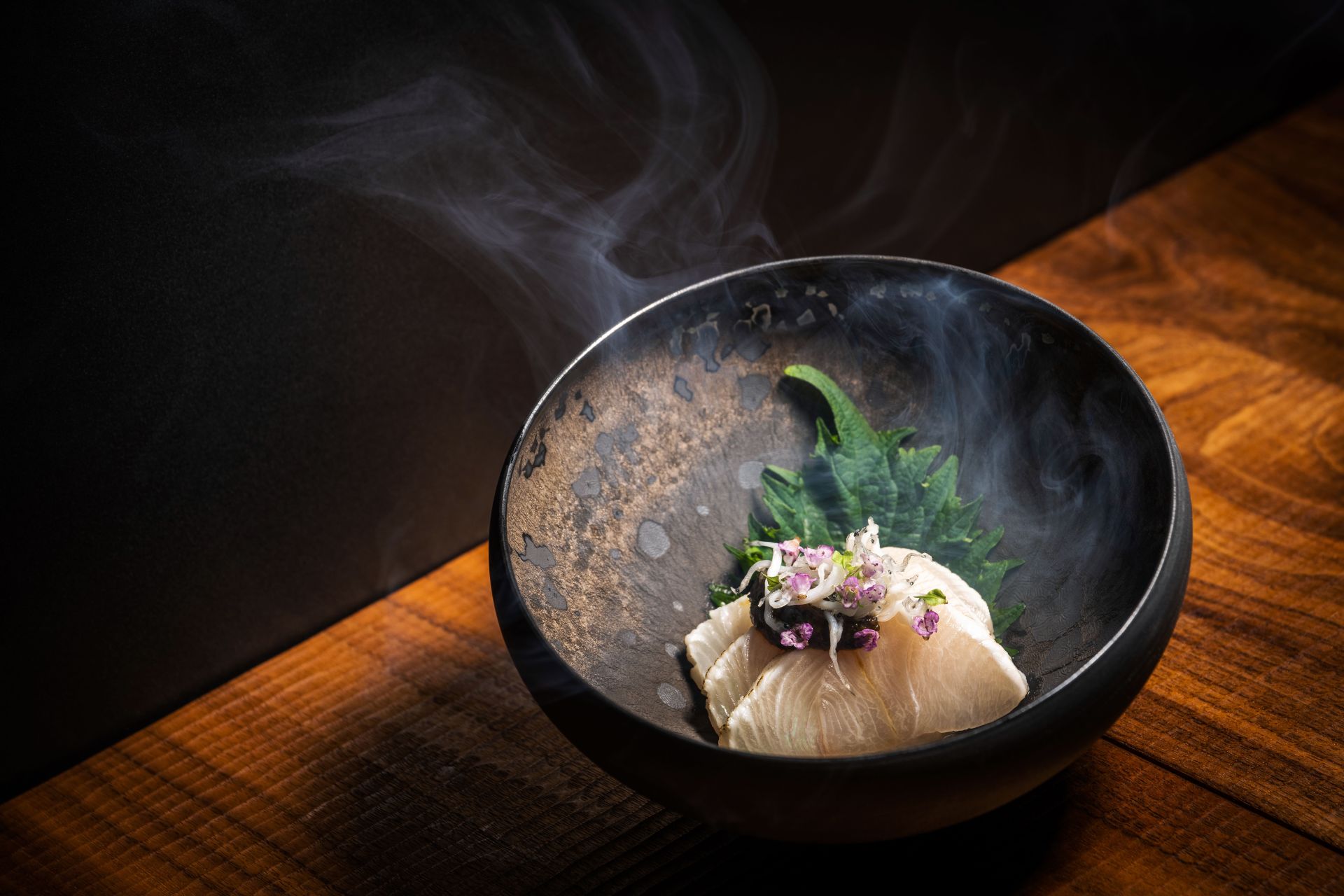 At Mikuriya, you cook with the seasons – what does this mean in the context of Japanese cuisine?
On the one hand, it means that we use ingredients that grow during the respective season. Yet food is also always a form of medicine here, and this too is expressed through seasonality. In winter, it's all about strengthening the immune system – with ginger, for instance, which warms the body from the inside.
Guests can also leave it to you to select their drinks. What guides your decisions here?
For light dishes such as sushi in particular, sake is the perfect accompaniment, as it intensifies the taste of the ingredients. We have a large selection of different sakes: aged, unfiltered, sparkling and still – whatever makes for the best pairing. We also serve brandy made with sweet potatoes or buckwheat, as well as different beers. Our head sommelier Lisa Bader, head chef Heiko Nieder and I work together to decide the pairings.
You have been working in Europe since 2008. How do you keep abreast of the latest developments in Japanese cuisine?
Firstly, through my cousin, who works for a famous sushi provider and fish market. Secondly, I also speak frequently with my friends who work as chefs in Japan. However, it's also important to me to travel in Europe and sample the different cuisines here.
Before you came to Switzerland, you were working in Germany. Have you noticed any differences?
In Munich and Düsseldorf, there are large fish markets with an outstanding selection of seafood. These markets don't exist in Switzerland, and customs duties make it difficult to import seafood from Japan. We therefore predominantly source our ingredients from France, Italy, New Zealand and Canada. I have a good relationship with many of the importers, so they often inform me when they have received some particularly excellent products. But above all else, it is more difficult to produce high-quality sushi in Switzerland than it is in Germany. I enjoy this challenge.
Are there any differences between the two countries in terms of Japanese cuisine?
In Germany, there is a long-established sushi tradition and restaurants that have been serving superior sushi for decades. In Switzerland, the conditions are trickier and the history shorter, which is why there is only a handful of truly good restaurants. And the fine dining sushi we offer is totally new here. That is exactly what we want to change with Mikuriya.
The way you cook at Mikuriya is very labour-intensive. What do you eat at home?
At home, my wife does a lot of the cooking. She is also a chef. And I like to keep it simple: cooked rice, soy sauce, fermented miso for a soup, served with seasonal vegetables.