Editorial
ANDY'S DREAM FACTORY -
WARHOL'S BIGGER PICTURE
"I love to work. So, rather than produce one portrait, I'll produce one hundred of them", whispered – or rather, breathed – the artist in hushed but no less brightly articulated tones into a microphone belonging to one of the journalists from Swiss television. The date is February 12, 1976, the occasion, the opening of the exhibition Ladies and Gentlemen, hosted by the Bruno Bischofberger Gallery, Zurich. Switzerland had yet to behold, indeed, could never have imagined a figure of the likes of Andy Warhol.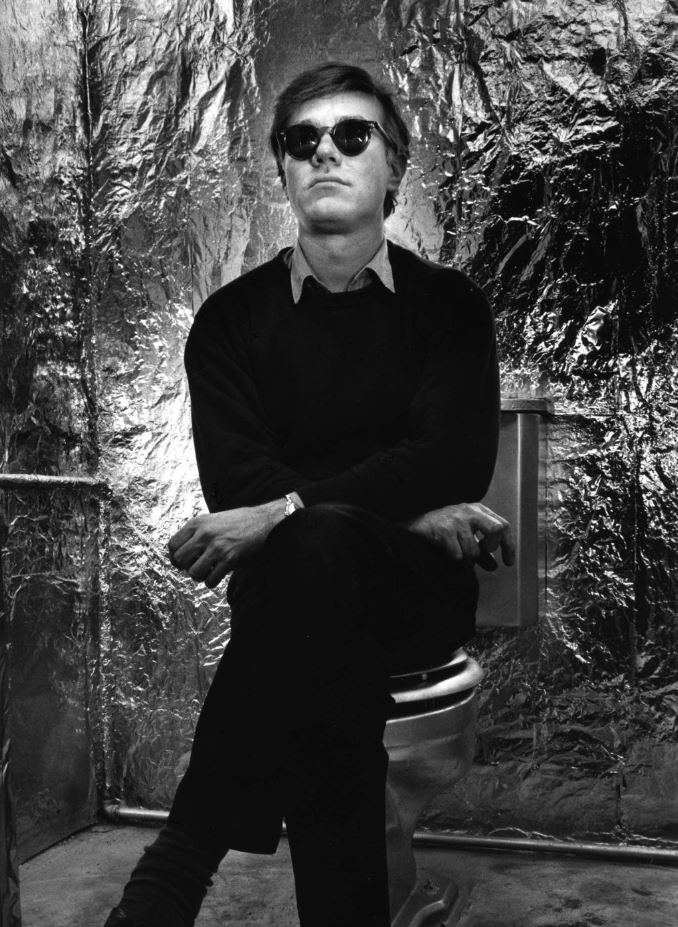 Precisely what Andrew Warhola, alias Andy Warhol, meant by this was less evident at the time than it is today: in short, once you've seen one Warhol, you've seen them all – or at least it would seem so. Indeed, from all his pictorial motifs, ranging as they do from trivia, such as (Flowers) or (Cows) to reproduced newspaper pictures (Car Crash or the Most Wanted Men Series, etc.) to consumer goods, such as Kellogg's and detergent packaging (Brillo Boxes) to portraits of himself or of stars (Marilyn Monroe, Elvis Presley, Liz Taylor and others), or of political figures (Lenin, Mao), what we have are identical and almost identical works and these, in turn, in varying luminescent chromatic variations. Whichever way we look at it, there is no way around these iconic images: they are etched into us. They came and have never left. A kaleidoscopic cosmos of images as enigmatic as it is superficial, as natural as it is artificial, and yet which lures us in under its spell. Indeed, no flea market in the world worthy of the name would be complete without a sweatshirt with a Warhol print emblazoned on its front.
All these works of art originated at what Andy Warhol called the »Factory«, where, together with other individuals, above all other artists and creative minds, he produced the serial works. Warhol called these multiples. Inspired by the consumer world, art was also to be available in large quantities, easily reproducible and everywhere accessible. The silk-screen printing process developed in the 1960s proved to be of great advantage to him; as a rule, this technique facilitated the production of 100, high-quality print items per screen. These could be then enhanced or "coloured" individually with acrylic paint. The so-called »Silver Factory« (1962–1968) served the artist as production site, as photographic and film studio and as place to carry out experiments and throw parties.
The Silver Factory, so named because the walls and, in some cases, also the floors, doors, indeed even the toilet, were papered with silver aluminium foil, swiftly achieved great fame. It was perceived as a dream factory. Andy Warhol, who cut his teeth in advertising, well understood how to envelope himself in myth, as well as the Factory with its at times edgy and outré members. «I wanna be a mirror», the artist would often declare, by which he meant less his intention to mirror society than to avail himself of it, much like a canvas on which to project all its wishes and aspirations. And this is just what did – very successfully. Number one on the agenda of any self-respecting person with ambitions in 60s Manhattan was to have him- or herself invited to one of Warhol's Factory parties: everyone desired to be part of this new savoir vivre of which he was such an pivotal figure – or far better – to have one's portrait painted by the man himself – or ultimately – to play a role in one of his films and rise to stardom.
Something that began as a haven for "homeless" artists, photographers, musicians, wanna-be actors, writers, homosexuals and trans-people evolved no less magnetically into a hotspot for the international jet set. Andy Warhol's Super-8 films as well as Polaroids taken at events in the Factory's various and sometimes capacious halls, testify to this: Truman Capote, Maria Callas, Salvador Dalí, Jane Fonda, Mick Jagger and many others – all of them were there for a good time, something which did not escape the yellow press. Here, Warhol's enigmatic temper stood him in good stead – by nature bashful and acutely reticent, he tended never to issue clear statements and would instead be inclined to respond in interviews with monosyllabic answers of the «yes» and «no» variety – a seeming weakness which he would skilfully employ to his advantage. Similarly, his choice of clothing at that time helped him almost overnight become one if not the most important artist of his time: donned with uniform-like aplomb, his signature wig, dark sunglasses, skin-tight slacks frequently combined with a sailor's T-shirt (like Picasso) and rocker's jacket, and, of course, the fact that he invariably surrounded himself with a host of »real« stars. This status not only assured recognition for this art star, but also droves of enviers, among whom authoress Valerie Solanas apparently belonged: when Andy declined to produce Solanas' feminist play she returned the gesture by shooting him three times. Only by sheer luck did he manage to survive the assassination attempt.
Marked and distressed by this traumatic incident, Warhol proceeded to redesign the building. The Factory then assumed a far more professional appearance and was organised accordingly, complete with office hours, conference rooms and reception area, thus resembling far more an agency than an artist's studio. Even the silver vanished. Many works of art dating from the second phase of the Factory were neither signed nor produced by the artist himself, an ongoing nightmare for the art market and godsend for forgers. The latter caused him little trouble, indeed rather amused him whenever discovering yet another fake replica of one of his works on display in a museum. He regarded this phenomenon as an integral aspect of his conception of practice and reproduction. Moreover, from around 1970, he began to diversify more than ever: much like Marcel Duchamp – an artist who understood himself as researcher and writer – as an artist, Warhol now regarded himself as filmmaker, producer and media entrepreneur. He produced yet more films, photographed stars for individual Portrait Paintings commissioned at horrendous sums; he authored a book and published books, co-founded »Interview Magazine« and in the 1980s even had his own television programme. As a model – meanwhile having himself become an icon for brands – he frequently posed for the camera. While his image was still "cool", he had been visibly reduced to a caricature of himself; though ever more introverted, his wigs and glasses became ever more glaring. All but a few seemed to know who Warhola, born in 1928 in Pittsburgh, Pennsylvania, really was. While this creative period may not infrequently be attributable to a certain arrogance, in his later phase Warhol would continue to create astonishing, trailblazing works. One such work now hangs in the hotel bar* in which you currently find yourself (online: * The Dolder Grand Hotel); Big Retrospective Painting, from 1978. It is the biggest of Warhol's large-scale art works.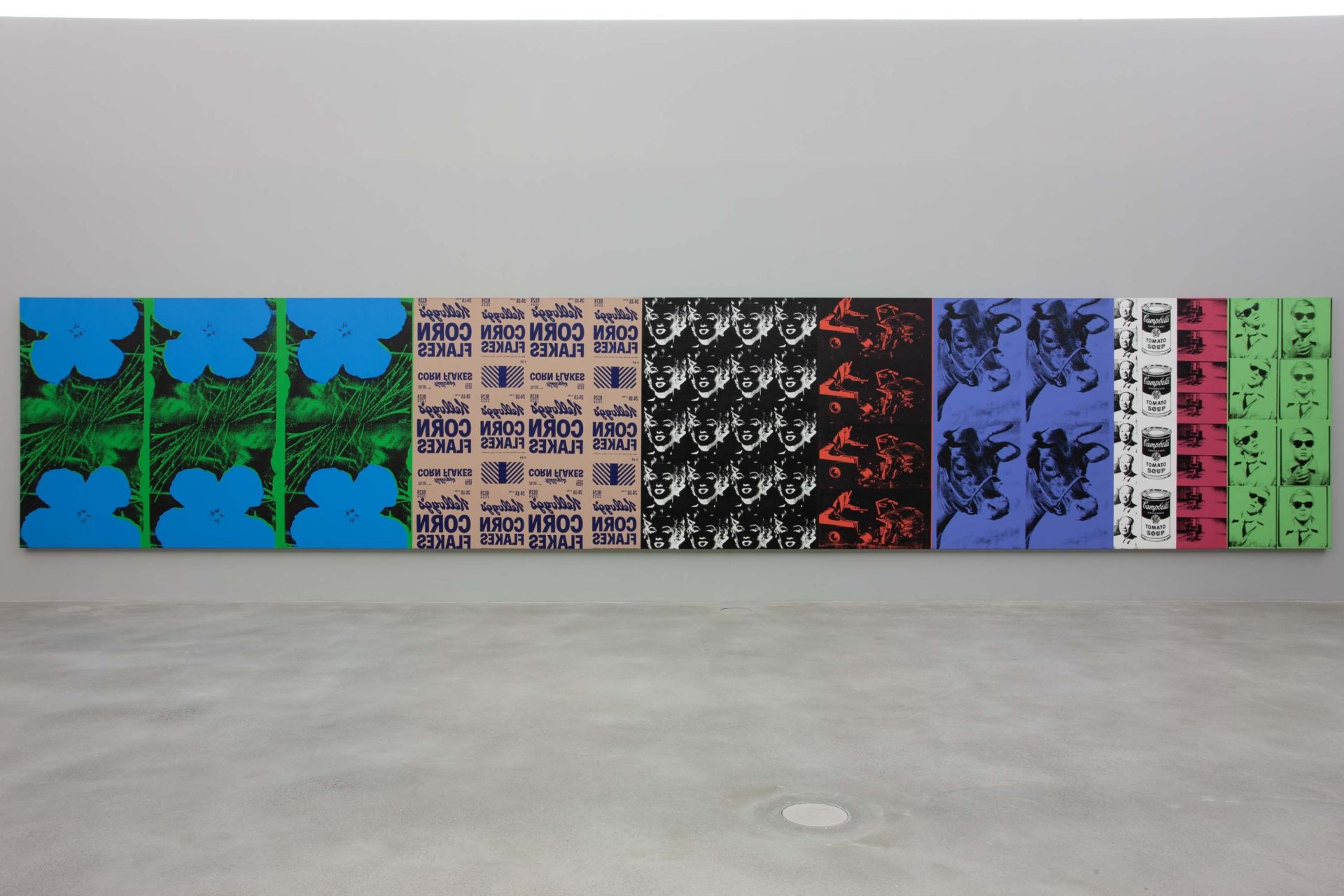 As the title betrays, wholly in keeping with Warhol's paradigm "Make it easy", the painting, with its almost eleven- metre width is not only monumental in scale, but also provides a retrospective insight into the artist's most important creative and biographic cycles dating primarily from the period of the Silver Factory. To this period belong the flower pictures, as do the Kellog's Cornflakes Boxes, the Campell's Soup Cans, his first Self-Portrait, the Marilyn Series, the Cows or the Electric Chairs. Similar to wallpaper, the familiar multiple motifs have been printed vertically on the seemingly gigantic canvas panel. The work comes across somewhat pedestrian, pompous and visually reminiscent of a stamp collection: to be sure, somewhat arrogant to (re)produce and entitle a retrospective of one's own work, and perhaps even Cynical, albeit not without a tinge of irony. In any case, all very much in Warhol's style to artistically capture and reflect nostalgic moments, past and future.
The work echoes the history of the Factory and its members. But it also tells the story of little Andy: hailing from humble circumstances and born to Slovakian migrants as the third of three sons, he faced constant hardship throughout his childhood and adolescence. The ever more lavishly filled shop windows lining the boulevards were not destined for the likes of the Warholas; their lot, it seemed, was one of hard toil and of paying their dues to the emerging American economic miracle, and yet, as members of the lowest strata of the working class, they invariably had too little to make ends meet. Hence, Andy sought refuge in a dream world; he was enthralled by the sheer endless range of goods displayed in the shops and loved glossy magazines and stars. He was passionate about everything modern, something which he himself aspired to become and that mostly likely prompted him to become a graphic designer for the advertising industry and, ultimately, to become the most influential pop artist of all time. But also, to be able to afford all these glittering things and to never again be poor.
This very piece was exhibited for the first time at the Galerie Bruno Bischofberger, in 1981. Andy Warhol's casual response when asked by another journalist as to why he used the old motifs for his current series of works was, «…besides, even the subject is different, people always paint the same painting. I simply ran out of ideas». Again, spoken in gentle and, as it were, bright tones, half whispered, half breathed into the microphone before departing – as always, straight on the line.